About Us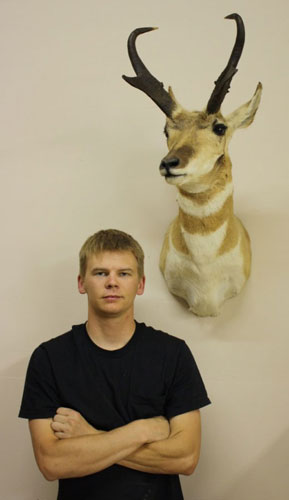 We are a family owned and operated small business run by father-and-son team Gerard and Derek Karr.  We started the business three years ago because of our love of hunting, fishing, and guiding.  Our private workshop is located in Folsom, New Mexico.  If you are in the area and you want to see some of our work, you are very welcome to contact us for an in-person meeting or visit the Gallery section of the site.
Gerard is an experienced local hunter and guide.  He has hunted for more than 40 years, lived in Folsom for more than 18 years, and guided with Kennedy Hunting Services for over nine years.  He trained at the Colorado Institute of Taxidermy and is a licensed taxidermist in New Mexico.  Gerard brings years of hunting expertise and extensive knowledge of local game to his work.  He is currently working towards national certification.
Derek trained at the Colorado Institute of Taxidermy as a Master Taxidermist.  He attended Texas State Technical College before returning to the Folsom area to start working in The Taxidermy Shop. Derek has been a taxidermist for two years, and he loves to hunt, fish, and call predators.  He is also working towards national certification.
Gallery:
We host an online gallery that showcases some of the work we have done in The Taxidermy Shop. Take a look around here, or visit our Facebook page for more pictures.
If you have received a trophy from The Taxidermy Shop and would like to display it in our gallery, please send us an e-mail to photos@thetaxidermyshop.com along with your name, date of hunt, and the photo.
Services
The Taxidermy Shop specializes in lifelike trophies. We pride ourselves in providing superior customer service and quality throughout your entire experience. It is our goal to give you back the trophy that you remember from your hunt.  The quality of our work means your will be able to proudly display the souvenir of your successful expedition in your home or office.  In addition, we offer repair services.
Our expertise includes, but is not limited to:
Elk
Deer
Whitetail deer
Mule deer
Pronghorn
Merriam's turkey
Bear
Pheasant
Audad
Antelope
Sheep
Corsican sheep
Exotic animals
African animals
Birds
Fish
Reptiles
We can work with you to select the best mount for your trophy including:
Shoulder mount
Life-size trophies
Rugs
Antlers Souvenir
Transportation and Shipping
We can work with you to arrange transportation and shipping of your animal to and from The Taxidermy Shop.
Depending on whether your trophy is local or international, we can work with you to make arrangements for shipping the animal to and from the shop.  For smaller animals, we can return your trophy via UPS box. For larger animals, we build custom-sized crates for shipping. Charges for crating, shipping, and handling are separate from the taxidermy fees.
Local Hunts
If you hunt with Kennedy Hunting Services, Kennedy is able to process the animal to prepare it for mounting. We transport the hide directly to The Taxidermy Shop and can begin work at that time.